The 2019 BSB Autumn Conference  was again be held at the Heythrop Park Hotel & Resort, Enstone, Oxfordshire on Wednesday 16th October, AGM and Conference Dinner, and Thursday 17h October for the Conference Presentations. Click on autumn conference to download a copy of the conference leaflet.
Click on conference booking to download a copy of the conference booking form, which gives details of the conference packages and prices. Payment of the conference fees can be by: bank transfer using: British Society of Baking; Account number: 90265144; Sort code: 20-43-60;  By cheque payable to British Society of Baking; and by the PayPal facility below.
Wednesday 16th October
17.00 BSB Annual General Meeting, Bloxham Room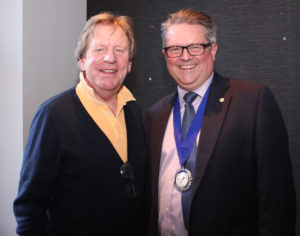 At the 2019 AGM Mark Young was elected BSB Vice Chairman for 2019 – 2020.
Thursday 17th October Conference presentations.
PowerPoint presentations To download a PDF version of the speakers' PowerPoint presentations click on the title of the presentation. The Bakery Market Information PowerPoint presentation is being amended and a link to a PDF version of it will entered asap.
 Company and Product Rebranding by Paul Baker, St Pierre Groupe 

Paul will talk about his journey in the baking industry and how he carried out a multi million pound rebranding of British company Carrs Foods into the St Pierre Groupe. The company's brands include: St Pierre Bakery, with brioche, crepes and Belgian waffles. Baker Street, with sliced loaves, burger buns, rye breads and teacakes. The licensed Paul Hollywood brand, with ready to bake breads and flatbreads. using unique shapes, finishes and toppings which are complementary to the home baking trend.
Bakery Market Information by Dominic Allport, NPD Ltd
Using NPD's propriety CREST consumer panel, which provides a detailed view of the Out-Of-Home market, Dominic will analyse
current consumer behaviour, what is driving it, and highlight opportunities for growth within bakery and other food-to-go categories. As Insights Director at The NPD Group, Dominic leads on much of the thought leadership within the company's Foodservice practice. He has 15 years experience as a retail and foodservice expert, regularly providing market insights and analysis to broadsheet and trade press.  He has had regular input into business and locational strategy development, providing a wide variety of clients with value-added insight and consultancy.
Asda Bakery Products by Ian Cummings, Head of Bakery, Asda
What lies behind Asda's success in terms of its in-store bakery offering which lead to them winning the prestigious title of 2018 BIA Supermarket Bakery Business of the Year? Having worked for Warburtons, Iceland and Morrisons, among others, Ian Cumming's background provides a wealth of experience in manufacturing, buying and retailing.   He  will talk us through Asda's successful strategy in terms of its in-store bakeries, its focus on quality and variety, its eye-catching merchandising and its adaptation to new trends via products and training.
11.40 – 12.20 The Government's Approach to Obesity by Samantha Montel, Registered Public Health Nutritionist, Team Lead, Out of Home, Public Health England (PHE)
Samantha will give an overview of the government's approach to obesity. This will include  an update on its reduction and product reformulation
programme, which is designed to make food products healthier by reducing sugar, salt and calories. She will discuss  how the baking industry can support the ambitions of the programme and why leadership from the food sector is important. The PHE exists to protect and improve the nation's health and wellbeing and aims to promote healthier lifestyles to the public.. 
My Decade of Deliciousness by Mike Bagshaw, Managing Director, International Taste Solutions, (ITS)

Owner and founder of thriving flavours business ITS, Mike will reveal how the business went from kitchen table to full-scale global trading in just 10 years. He will share what he thinks will be next bakery innovation to take the market by storm. As a passionate supporter of sugar reduction, Mike will discuss how the industry can play a significant role in making foods healthier without sacrificing product quality or taste.
The Good, The Bad and The Ugly by Alex Waugh, Director General, National Association of British and Irish Millers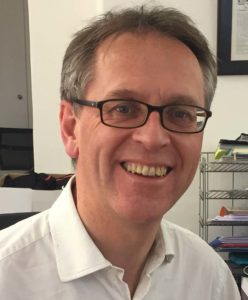 (nabim)
Alex's presentation will review the 2019 harvest and wheat market developments, consider the impact of Brexit on flour milling and baking, and reflect on the health credentials of bread and bakery goods.  He has a long history of involvement in the cereals sector with nabim and the Flour Advisory Bureau, and as a Council member of Campden BRI and a former member of the AHDB cereals and oilseeds board.  He also chairs the DEFRA Brexit Arable Group.
14.40 – 14.45 Closing remarks by BSB Chairman Richard Hazeldine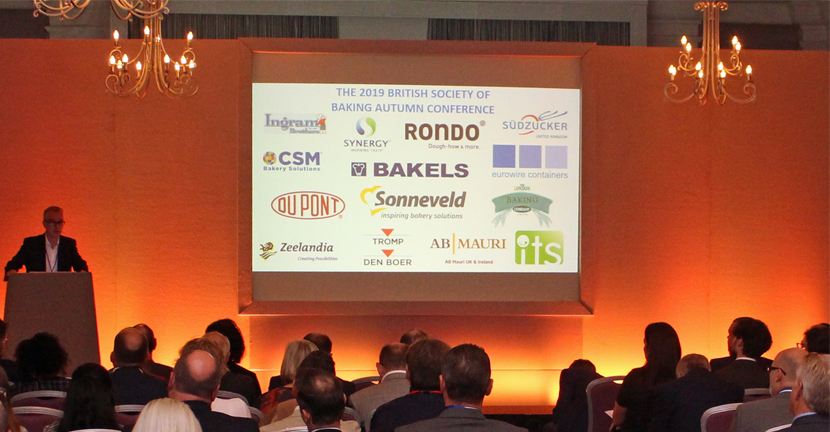 The 2018 Autumn Conference was held on the 17th  and 18th October at the new venue of the Heythrop Park Hotel & Resort, Enstone, Oxfordshire, and was very successful indeed. Eighty five delegates enjoyed a superb conference dinner on the Wednesday evening, which included entertainment from magician Mark Smith. A total of 128 delegates attended  the conference presentations on the Thursday, which were very highly praised, being regarded as one of the best programme of speakers we have had for a long time. The facilities at the hotel were also excellent for the pre-dinner drinks, the conference dinner and for the conference presentations.
The list  of topics and speakers are given below. Click on the title of a presentation to download a PDF copy of its PowerPoint Presentation. Unfortunately this does not include the Presentation by Robert Potts of Greencore. For commercial reasons Greencore have asked us not to put Robert's PowerPoint Presentation on our website, or pass copies of it on to anyone. However we will be able to include slides from his PowerPoint presentation in our conference proceedings booklet.
Robert's Next Generation Bakery by Stuart Spencer-Calnan, Managing Director
Stuart Spencer-Calnan who took delegates through a highly innovative total product relaunch, which included new branding, new packaging, new products – a pioneering 'off-the-wall' strategy, which included a very imaginative marketing programme. The whole venture was, and continues to be, very successful.
Global Baking Challenges and Opportunities by Stan Cauvain, MD Bake-Tran
Leading bakery technical innovator and scientist, Stan Cauvain of BakeTran, tackled three important issues: Improving process efficiency and reducing energy costs in bread production; making bakery products 'healthier'; and developing employees' scientific, technical and production skills. Importantly, he said BakeTran had discovered that raising 'average' dough temperature by 1% and using the right processing methods, could save 1% of baking fuel costs. One plant had recently saved £100,000 in a year.
The Bread Ahead Academy by Chris Malic, Director
We were pleased to give Chris Malic of Bread Ahead 20 minutes at the conference to present their plans for a bakery academy, which they hope to open in 2019. Chris's PowerPoint presentation included a video message from Bread Ahead founder Matt Jones. The aim of the academy is to produce more bakers with the craft skills and knowledge required to produce quality bread and other bakery products. Courses will include 12 weeks of theory and practical experience in producing bread, Viennoiseries and pastry products. This will be followed by work placements in artisan, retail and plant bakeries.
Your Bakery Queries Answered at the Click of a Mouse by Dr Lin Carson, Founder and CEO, BAKERpedia
Lin Carson, founder of the free-to-use website BAKERpedia, spoke about the role of digital media in bakery, which can be used for marketing purposes, recipes, NPD, and sharing and solving technical problems.
Sustaining Future Growth in Food to Go* by Robert Potts, Head of Insight & Strategy, Greencore Food to Go
Robert Potts gave an overview of Greencore – who they are and what they do.  He then set the market context for Food to Go – which he said is a market full of opportunity! He discussed what consumers are looking for in Food to Go and spoke about how to win a higher share of the market. Lastly, he spoke about how the baking industry can support market growth in Food to Go and benefit from the sales opportunities this produces.
*For commercial reasons Greencore have asked us not to put Robert's PowerPoint Presentation on our website, or pass copies of it on to anyone. However we will be able to include his presentation in our conference proceedings booklet. Greencore has a big presence in Food to Go and Robert covered that as well as  discussing the dynamics of the Food to Go market, what consumers look for and on how to deliver future growth in this hugely demanding market.
Rising Further in Baking by Jessica Dalton and Megan Roberts, University College Birmingham (UBC)
Jessica Dalton and Megan Roberts, degree students at UCB, have won plaudits as Rising Stars at the Baking Industry Awards. In a joint presentation they revealed their different bakery experiences, how they attained scholarships and how they have followed their own bakery agendas with real drive and enthusiasm. They made suggestions too as to how industry can help hard-working students by providing work experience, masterclasses, internships, industry visits and financial support.
The Latest Trends in Baking by Matthew Verity, Business Unit Director, Kantar World Panel
Matthew Verity took a close look at the key trends impacting bakery. He told delegates that UK bread sales are up 4.7% but over 5 years the bakery category has only increased 1.4%. This is opposed to grocery, which has grown by 6%. He said that: 'Healthy' and seeded products are doing well; smaller packs are becoming more popular; NPD is vital for bakery manufacturers; as is supporting the retailer with a clear online strategy.
Warrens' Journey to Success by Alexandra (Alex) Martin, Director of Retail Operations
Alex explained the rapid growth and success of Warrens Bakery in the last five years, attributing it to: a completely new mindset; rebranding; retraining, embracing the latest technology for an almost paperless office; as well as NPD, flexible formats, and in particular, franchising.