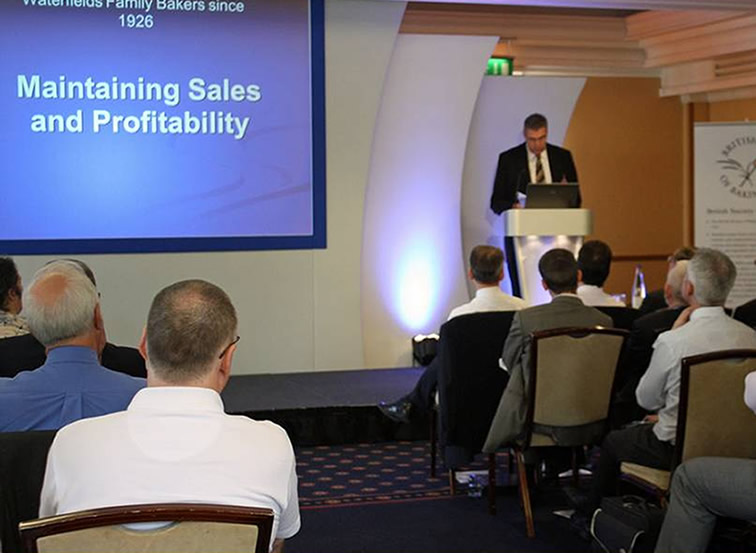 THE 2018 BSB AUTUMN CONFERENCE
The 2018 Autumn Conference will take place on Wednesday 17th and Thursday 18th October at a new venue, the Heythrop Park Hotel & Resort, Enstone, Oxfordshire OX7 5UE. The hotel has excellent conference, dining and residential facilities. Click on Conference programme to download a copy of the conference leaflet. The conference booking form can be downloaded by clicking on booking form. Payment for the conference can be made by: Bank transfer – Barclays Bank, sort code 20 34 60, account number 90265144; PayPal, see below; and by cheque.
PayPal facility for the 2018 Autumn Conference
Choose the package you require from the dropdown menu and click on Add To Cart
Wednesday 17th October
17.00 British Society of Baking AGM – Bloxham Room
19.00 – 19.45 Brassey Bar Complimentary Prosecco drinks reception. Cash bar for other drinks.
20.00 Enstone Suite Three course dinner plus a cheese board, inclusive of red and white wine. Surprise entertainment will take place during dinner. Delegates can return to the Brassey bar after dinner for networking and drinks.
Thursday 18th October
Conference presentations. Enstone Suite
08.30 – 09.15 Conference registration, Enstone Bar area
09.15 – 09.25 Opening of conference by new BSB Chairman Richard Hazeldine
09.25 – 10.00 Robert's Next Generation Bakery by Stuart Spencer-Calnan, Managing Director
There are many challenges facing plant, from the rising cost of ingredients to competitive pricing demands by retailers. So how does an independent bakery like Roberts drive business forward? Stuart will discuss some of their recent sales and new products initiatives and how they market them.
10.00 – 10.35 Global Baking Challenges and Opportunities by Stan Cauvain, BakeTran                                                                                                     Leading bakery scientist and technologist Stan Cauvain will suggest vital new ways to optimize production capacity and reduce energy costs. He will also explain how bakers can produce goods that meet consumers' taste and texture expectations.
10.35 – 10.55 The Bread Ahead Academy by Matthew Jones, Owner and Chris Malic, Director
10.55 – 11.20 COFFEE BREAK
11.20 – 11.55 Your Bakery Queries Answered at the Click of a Mouse by Lin Carson, Founder and CEO, BAKERpedia
Dr Lin Carson is from the USA, where she studied bakery and grain. She will speak about BAKERpedia, a major new to the UK digital website resource for bakers, enabling users to find recipes, check ingredients and collaborate on knowledge. The website has over 700 freely accessible pages.
11.55 – 12.30   Sustaining Future Growth in Food to Go by Robert Potts, Head of Insight & Strategy, Greencore Food to Go
Greencore has a big presence in Food to Go. Robert will focus on the dynamics of the market, what consumers look for and on how to deliver future growth in this hugely popular but demanding market.
12.30 – 13.00 Rising Further in Baking by 2017 BIA Rising Star winner Jessica Dalton and finalist Megan Roberts, UCB
Jessica and Megan will discuss important aspects of their bakery studies, asking "do they fit industry needs"? and "what might delegates and students like to see changed"?" Combined with studying for their Bakery Technology degree, Jessica is currently working at UCB and Megan is doing an internship at Zeelandia.
13.00 – 14.15 LUNCH
14.15 – 14.50 The Latest Trends in Baking by Matthew Verity, Business Unit Director, Kantar World Panel
Matthew Verity will provide an entertaining overview of the Bakery market. He will focus on current performance and trends, uncovering the consumer behaviour driving purchases and pointing to key opportunities for growth.
14.50 – 15.25 Warrens' Journey to Success by Alexandra (Alex) Martin, Director of Retail Operations
With two bakeries, 52 company-owned stores and 21 franchise partnerships across the UK, Warrens aim to reach a 2018 target of 40. Alex will tell us how this can be achieved.
15.25 – 15.30 Closing remarks by BSB Chairman Richard Hazeldine
For posts with detailed information on the conference  and speakers click News