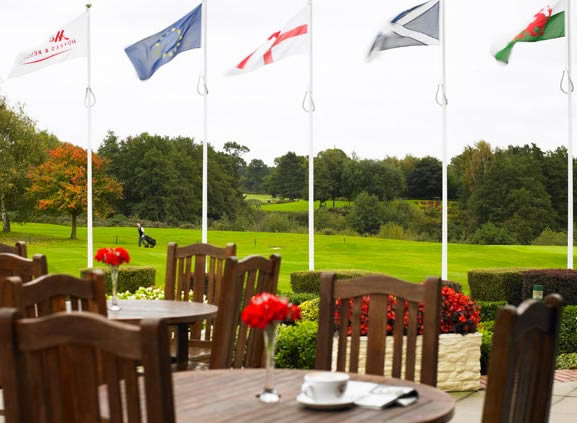 History The BSB Golf Day was started in 1990 with the intention of being a social event for BSB members and their guests and it has proved to be very successful, with good attendances over the years. In the early years the Golf Day was held at the Aspley Guise and Woburn Sands Golf Club near Milton Keynes. This was followed by it being held at the Belfry, played over the famous Brabazon course. A 'shotgun start' format was introduced so that everyone starts and finishes at the same time and can attend a prize giving dinner following the golf. In 2011 we moved to the Arden Championship course at the Forest of Arden Hotel and Country Club. In 2017 the golf day was held at The Mere Golf Resort & Spa in Cheshire ands returned to the Forest of Arden Hotel and Country Club for the 2018 competition.
Until 2015 two trophies were competed for at the BSB Golf Day: the BSB Trophy, presented to the Society by Past Chairman Keith Shaw, for the best Stableford score by a BSB member; and the Visitor's Trophy, presented to the Society by Past Chairman Ross Ferguson, for the best Stableford score by a visitor. Team, best scratch score and other prizes are also awarded. In 2015, the 25th anniversary of the start of the BSB Golf Day, a trophy for Senior players competing in the BSB golf day was kindly donated to the Society by Keith Houliston, the long time organiser of the event.
The 2019 BSB Golf Day

Review of Winners of the 2019 BSB Golf Day at the Forest of Arden Championship Course
BSB Trophy (for BSB members) – Sat Hanspal
Visitors Rose Bowl – Ben Hutchinson
Veterans Trophy – Dennis McCleese
Other prizes:
1st Team Prize – Paul Cliffe, David Hall, Ben Hutchison, and Mark Young
2nd Team Prize – Sat Hanspal, Chris Morrow, Ged O'Connor and Scott Sutton
Nearest the pin at the 18th Hole – Brian Clarke
Longest Drive at 12th hole – Ian Moss
A thank you to Keith Houliston for once again organising a superb BSB Golf Day This included a demonstration of  trick golf shots by Golf Professional Ady Wheatcroft, which greatly impressed and entertained the BSB Day golfers. Through Ady, we raised £200 for the Bakers Benevolent Society by the auction of a four ball on the Arden Course he donated. The highest bid came from Richard Waterfield.
A video was taken of some of the Golf Day players trying Ade's trick shots, such as hitting balls from metre high tees. This resulted in good natured failure and much fun, and emphasised how talented Ade is with these trick shots, including taking drives while standing on a step ladder! The video included the golfers taking normal tee shots and a download link to the video was given to each Golf Day participant.