Industry rising-star Will Bowen was one of three UCB students to participate in a question and answer panel at the 2016 BSB Conference. One year on, Will is the bakery centre manager for British Bakels, so we caught up with him to find out about his journey into the industry.
Hi Will. Great to chat with you today. Could you tell us a bit about how you first got into baking?
Well it's funny really, because I've always loved food, but I guess I can really attribute it to my family. My great-grandfather was a journeyman baker and my mother trained in home economics at the same university I did. So I studied food science to A level, but at the time I actually wanted to be an environmental health officer, right up until I got my results. So it wasn't really until then that I started looking into options in baking or training as a chef, and I started looking at UCB, my mum's old school, and they were offering this new degree course in bakery. looking at that it looked like the perfect opportunity to learn all the theory that I wanted – that I'm really interested in – and to develop some practical skills as well. That's when I decided that it was what I wanted to do.
So it was a real last-minute decision then?
Yes, I just kind of decided to follow my gut, so a real spur-of-the-moment decision.
Great, so what did you go on to specialise in during your degree course?
Well, over the first two years, we cover all areas, so everything from artisan baking to the Chorleywood process, modern confectionary and chocolate, but we also covered business management. What I found really exciting was looking at the micro-ingredients used and how they affect the bakery industry. Over the past few years, as I went through my degree, we've seen a big rise in the use of different enzymes and micro ingredients so as we've learned, we've also had to keep up with the world changing.
In my final year, I wrote my dissertation on gluten-forming proteins in flour, focusing on environmental effects on wheat production and considering how farming and baking industries could work to produce consistent, quality flour in the future.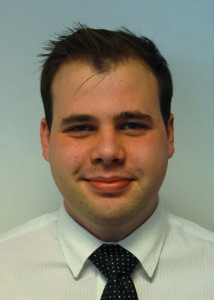 I also worked on developing a flavour-enhancing form of sourdough that could be applied to food to give you that sourdough flavour, without needing that 24-hour bake time that you'd normally have with sourdough.
Wow, so you covered quite a broad range then. And how did that lead to you speaking at the BSB Conference in 2016?
Well, we were first told at the end of our second year, after the ABST conference, that we would also be going to the BSB conference in October. At the time, we didn't really know much about it, because we were just starting to be introduced to the wider industry. So over summer we were asked to think about what we might say in a presentation, so we went away and as we came back at the start of third year, it was announced that three of us would be picked to sit on the panel on stage as well, for a Q&A session about our degree.
So it all happened quite quickly for you really?
Yes, it was all a bit surprising. But it was very interesting to see how people in the industry perceive this degree because there's so few of us doing this specific degree and we're still working on developing it further. So I found it really interesting to see what people thought, because in that room you have everyone, from all different professions, from rival companies, craft bakers all the way up to massive industries and that was really exciting to talk to them about what we were doing and see what they thought.
Sounds like it was a good experience overall then. How did things progress for you from there?
Well, one of the girls I'd been on stage with, Emily Hughes, had been down to British Bakels before, so she had already met some of the people there, and during the conference I met Keith Houliston, who said we'd done a great job on the stage and invited me down to see British Bakels to collect some flour data for my dissertation. Overall I did about four visits to Bakels collecting data and them helping me with some of the scientific elements of the degree and then Keith suggested I go on a sales visit.
So I went with one of his team, Gary Willsher, I went on a couple of visits with him around London and Bedfordshire, visiting all sorts of businesses from small, craft bakers right up to big distributors and ingredient suppliers. I really enjoyed that time and when I got my final results last June, I achieved a First Class in both my degree and my dissertation, for which I'm really thankful both to the fantastic teaching at UCB and the work with British Bakels and Whitworth Millers. I sent a quick note to Keith, thanking him for the help he'd given me, and he told me there was an opening for the baking centre manager at Bakels and suggested I go for an interview.
So obviously that interview went well?
Yes. Well, I think so.
Well, you're now the bakery centre manager for Bakels, so where are you hoping to take your career in future, do you see yourself more on the science side of things or the production side?
[Laughs] Well that's the question I've been asked the most over the past few months: 'where do you want to go?' Everyone's been asking that. It's funny because I was trained mostly as a proper scratch, artisan baker, so I didn't use any form of improver at all – we were lucky to even use yeast! So comparing that to Bakels, one of the leading large manufacturers, it's very different. I have to match my interest with pure clean dough with the fact that you can't really replicate that at mass scale. I'm really enjoying seeing how everything works; the balance between creating these great products and producing them at scale.
So I'm at a bit of a crossroads really, in terms of where I want to go, because the industry is moving at such a fast rate, with new enzymes and technologies, it's always changing. So I like working at a large scale, but within that, I'm not 100% sure and I'm just looking out for any opportunities that are out there.
That sounds like a really good way of looking at it. So, final question, what's your favourite thing to bake at home?
Oh. [pause]. I think I would have to go with a classic white sourdough. I like a good classic. I've got a three-year aged sourdough starter that I use in everything: bread, pancakes, that thing gets used and abused every chance I get.
I always liked bread, because there's so much more that can go wrong with bread, but since working at Bakels, I've started working on more confectionary as well. So I've been making a lot of opera cakes recently, so I'm right in the middle of that conversion between white sourdough and opera cakes right now.
Wow, your kitchen sounds like a great place to be right now! Thanks for speaking with us, Will. We're sure the industry is very glad you didn't decide to become an EHO.
No problem, thanks very much.